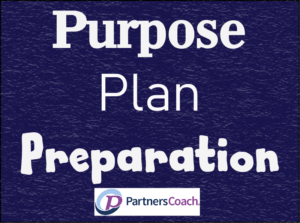 About midway through the
NextGen Conference sponsored by NYSCPA
last week, I spoke briefly with Tom. He was a young accountant with a few years' experience. I asked him what he was getting from the speakers so far. He said, "I guess I need to get on with it. I haven't been as focused as I should be."
Each presentation echoed the fact that your career doesn't belong to your firm or anyone else. It belongs to you. No one cares more than you do about how your future unfolds or where you end up. Why would you delegate away something as important as that? Why are you just going along, like Tom admitted, just hoping you will end up in a good place?
There are three considerations as you launch and sustain your career and none of them can be accomplished by anyone else but you.
A Purpose
First, you have to have a purpose. It's the north star that has gravitational pull such that you can't not pursue it. It keeps you motivated and energized to what matters most to you. Read more here.
A Plan
Then you need a plan. Your goals keep you on track and prevent you from drifting out of bounds. They keep you focused on what really matters by aligning your activities, efforts and actions in line with where you are going. Go here for more clarity.
Preparation
Finally, you have to be prepared. In your daily life and work, nothing goes perfectly as planned. You will be pulled away from what's important and you need to know ahead of time how you will handle those situations. Here are some additional thoughts.
Any investment requires a desirable payoff. The ultimate prize for investing in yourself? Not happiness, which is a fleeting feeling. Not contentment, which is an emotional state, but a sense of fulfillment from living a life of making a difference—your way. That's what it's really all about.
Professional Satisfaction Your professional career is a journey and should be marked by a sense of deep satisfaction. Think about it: you make the lives of your clients better by practicing your chosen professional discipline. And on top of that, you get paid for it....
read more