If you're like most, your New Year's resolutions are long gone, or at least faded into a distant memory. While studies vary, they all lean to fewer than 10% actually complete or fulfill their goals. Since you know you are unlikely to meet your goals, you are likely to be among the 54% who no longer even make them.
So rather than make resolutions and fail, why don't you do something that is simpler and will have huge results? Why don't you begin each day by examining how you will invest your time, your energy and your attention? If you will do this, your productivity, achievements and results will go through the roof.
Invest your time.
This is the only resource that is non-renewable. Once this second has passed, you will no longer have it available to you. Hopefully, reading these weekly messages are an investment in your professional and personal success and satisfaction. As you look at your calendar for today and this week, where is your time directed? At the end of the day, can you honestly say that your time investment was worth it?
Invest your energy.
You know the specific times of your day when you are your sharpest and best. So reserve those times for the work of strategizing, problem-solving and high-level planning. Don't squander your energy on things that have little benefit or payoff other than receiving a quick hit of dopamine in the moment.
Invest your attention.
Your attention is the part of you that is most sought-out by others. Just consider all the interruptions you face in an hour, with dings, rings, pings and "do you have a minute?" intrusions? Everyone and everything is vying for your attention. Are you investing your focus on what is important, not just urgent?
Rather than beat yourself up on your lack of goal achievement, direct yourself to invest your precious and scarce resources of time, energy and attention. By attending to these three, you will achieve more than your goals will ever produce.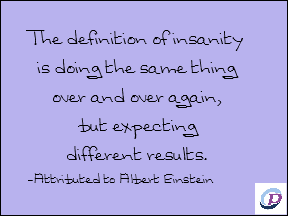 The Struggle Why can't life be easier? Why won't people just do what they are supposed to do? Why don't things go the way they were planned? Why does everything have to be a struggle? We all say these things when we are frustrated and, well,,,struggling. What Struggle...
read more