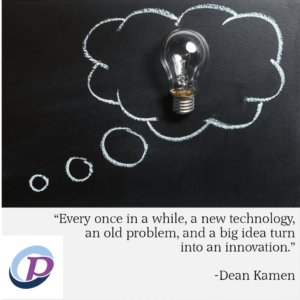 I came across a 2014 survey produced by the Center for Creative Leadership, finding that 94% of the global executives surveyed believe that innovation is a key driver for their future success. Yet only 14% indicated they had confidence their organization had the ability to be innovative. Hmm. I wonder if they are being innovative 5 years later.
As a result of this global awareness, there has been some interesting research about innovation—like what it is (and isn't), characteristics of innovators and optimal environments for innovative thinking and acting. In particular, two characteristics have been identified in innovators, both of which you may also possess.
Curiosity
The first is curiosity. Innovators ask, "why don't…?" "what if we could…?" and "why not?" They are drawn to explore what is not immediately obvious. When you look beyond what is right in front of you, your curiosity is piqued and you look further and deeper. Client work is LOADED with opportunities to exercise your curiosity. In fact, your clients want you to bring to them insights that they don't see. But if you have the attitude that says, "If it's not part of the engagement, I won't take the time to think of other solutions or opportunities," then you will have nothing more to offer.
Courage
As second characteristic is courage. Innovators are willing to be wrong, to fail, to be less than successful. When you take a chance, offer a prediction, or venture beyond what is confirmable, you exercise courage. Obviously, you must be conscientious, but not constrained by the unknown. If all you give your clients is what you can prove with certainty, you aren't offering them anything more than what they can get anywhere. At least you could engage them in a conversation and ask questions other than what happened last year. If your attitude is, "I just want to do my work and have my clients value it enough to pay me for it," then your courage may be hijacked by your cowering.
The world is changing and you will have to change as well. Developing an innovation mindset is your future, and you can cultivate it right now, right where you are. So, are you being innovative?
Professional Satisfaction Your professional career is a journey and should be marked by a sense of deep satisfaction. Think about it: you make the lives of your clients better by practicing your chosen professional discipline. And on top of that, you get paid for it....
read more