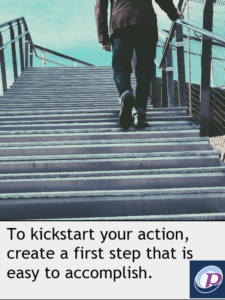 Last week,
I wrote about how your thinking controls your actions
. For instance, if you are overcome with dread when you think about a particular task on your to-do list, you are far less likely to do anything about it. It's easier to put it off…again. To get yourself going, all you have to do is change how you think about it. Here's proof.
Easy To Procrastinate
One of my readers, Benjamin, responded via LinkedIn that he put the technique to the test after reading the message. He stated that he was putting off a project for a client that he just didn't want to do. He just came out of tax season and  had no interest. As the ol' feller down home used to say, his "get up and go, got up and left."
Change Your Thinking
Rather than thinking about how much he didn't want to get started, he began thinking about how his client would benefit from the project, like enhancing his wealth plans and accomplishing his goals. His client would be impressed with his genius. By simply changing his mind about the project, it sparked Benjamin's motivation to begin. He's on his way with his client's project instead of living under the burden of dread from procrastination.
Motivation is Key
It's a great testimony and proof that your thinking can control your actions. There are other "tricks" you can use to kickstart yourself to action. I've written about them over the years, all based on behavior science. One in particular is to create a first step that is easy to accomplish. We know that once you begin, you are likely to continue because the motivational center in your brain is already flooded with dopamine. That means that you would have to try to stop action rather than initiate it. Easy peasy.
The work you do for your clients, your firm and most importantly, yourself, is too important to languish because you just don't want to get started. Everything you dream about, wish for and aspire to accomplish and become is rooted in what you do. Get your thinking straight and start knocking off those tasks you've been putting off. For everyone's sake.
Professional Satisfaction Your professional career is a journey and should be marked by a sense of deep satisfaction. Think about it: you make the lives of your clients better by practicing your chosen professional discipline. And on top of that, you get paid for it....
read more