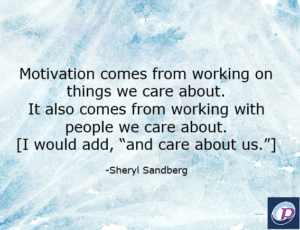 Loud and Clear
Over the last few months, my coaching calls have uncovered a common and pervasive theme: people are fully spent. They are tired and weary. A few are burned out, some are significantly anxious and stressed. The Covid era has been grueling. The months of isolation with an overwhelming workload have taken its toll.
However, that's only part of why people are in such bad shape. One thing I heard over again is that they believe their firm leaders don't know what they are going through.  Or worse, they don't care.
Regardless of where you are in your firm, the people you lead are struggling. They think that you don't want to know what they are dealing with. That you don't care. That they should just suck it up and do the job. Quit whining. None of these messages are true and your leader opportunity is to step up and lead. It's true that you may be struggling as well, which only compounds the situation. Leadership in difficult times is never easy.
LISTEN
Your staff feel isolated. For fourteen months, they have been working remotely with looming deadlines, a full workload and without office camaraderie. Sure, communication about work seems to be OK: job progress, what information is missing, scheduling priorities and reviewing budgets. But you aren't listening to their emotional struggles around workloads and feeling overwhelmed.
When is the last time you scheduled a call with one of your staff just the check in? "I don't have anything specific.  I just want to ask how you're doing." You may hear a stiff upper lip response, like "I'm making it." Don't stop there.  Say, "OK, but how are you really doing?" Give them the space to tell you how they really feel.
Just Be There
You will likely hear a good bit of dissatisfaction and feel uncomfortable because you can't do much about it. Remember, your conversations aren't about solving problems. The purpose of the calls is to listen to them and give them a chance to be heard and vent their frustrations and anxieties.
When leaders listen, they send a message that they understand, care, and are walking with their staff in their distress. Do you know how relieved your followers feel when they realize they aren't alone, left to suffer by themselves? Leaders who listen communicate understanding, support and encouragement, even when nothing can be done to change the situation.
This is the time to demonstrate leadership in difficult times. The next question is, are you up for it? Who's in?
What Is Purpose? As I prepared for my conference presentations this week, one of the observations I made in my research is a reminder of a fundamental truth that doesn't get enough airplay. In a nutshell, it's that people (and organizations) exist for a purpose....
read more