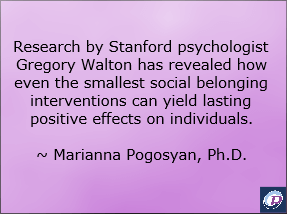 Belonging Is Essential
Last week, I came across an article published by the Mayo Clinic about the importance of belonging.
"The social ties that accompany a sense of belonging are a protective factor helping manage stress."
It is clear that belonging is an essential feeling for you and your staff to be engaged in their careers and connected to your firm. When you feel like you belong to a team that accomplishes meaningful work, you are more focused and motivated. Those in your firm who feel this sense of belonging are more resilient and able to persevere through difficult times.
A Partner's Insight
On a recent coaching call, I asked a partner how her staff were doing. She indicated that those who had joined the firm before the pandemic seemed to be doing better than those who came after the shutdown.
The essence of her insight was that it was easier to continue the relationships she had established earlier while in person. Forming relationships with new staff without the face-to-face interactions proved to be more challenging.  The cumulative effect of those casual 2-minute chats in the hallway and break room really mattered more than anyone knew. Those moments reinforced the feeling that people belonged here.
Barriers to Belonging
As we talked, another awareness surfaced. Virtual meetings tend to be more formal, around agendas, updates and deadlines. Even the chit chat has everyone on their best behavior, where everyone politely takes their turn to speak. What's missing is that the newer people don't have a chance to witness the interactions of others to learn the rules of what is acceptable. For instance,
Can I call a partner by their first name?
How should I approach someone with a question when they are busy?
With whom is it ok to joke around? How much?
These questions aren't answered in the firm's policy manual or orientation. They are learned by observing people interacting. Without that, new relationships remain at a formal level because the boundaries are unclear.
There are many subtle but important interactions that you rely on in a normal in-person setting that are missing in a virtual environment.  Find ways to overcome the limitations of remote work so that everyone feels like they belong. They will help you connect and acclimate new people to your firm and reinforce the sense of belonging for everyone.
A Third Message This is a third Message focusing on how you can protect your mental health this busy season, in a trying time when there are so many undercurrents of social, political and economic mayhem. You can read the previous two Messages here and here. The point...
read more