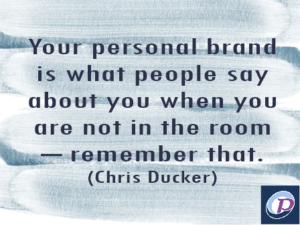 I'm really enjoying my interactions with the managers in a particular course in the
Partner-Pipeline®
on Positioning Yourself in the Marketplace. They are in the midst of exploring and defining their place with an exercise called "Build Your Brand."
You Are Responsible For Your Brand
In our discussions, I emphasized that they already have a brand. They, like you, are already known by others, somehow, in some way. You have established yourself in the way you show up, how you work and the way you interact. They all combine into a general perception of who you are, what you stand for, what to expect from you and what's important to you.
The question is whether you want to be known that way. Rather than leave it to chance, you can shape your brand to be more authentically you. But make sure you aren't unintentionally portraying something different.
Your Brand Gone Awry
For instance, you may want your brand to demonstrate that you are dependable, yet others aren't surprised when you miss deadlines. Or you may want to be known as accessible, but others experience you as not communicating timely. Or you may want to be known for your quality of work, yet others have come to expect your lack of accuracy and completeness. Hmm.
Some of my coaching clients over the years have been surprised by the way others see them. If they are a bit reserved, they were surprised that others may see them as disengaged. If they were more social, they were surprised that others may see them as busy bodies or wasting time. If they were assertive, they were surprised that others may see them as pushy.
Build Your Brand
When you build your brand, it's not attempt to present yourself as someone you're not. The goal isn't to create a reputation, but to align how you are known with who you really are and aspire to be.
Once you determine what your brand is, you can conform your words, actions and behavior to align with who you really are—your authentic self. This is where your best self must rise above your undisciplined, inattentive self.
As you reflect on your brand, how are you known by your clients and colleagues? What do you want them to think about you? To expect from you? To experience when they interact with you? If you don't know or are unsure, you may want to find out because you have already have a brand.
Leaders Motivate Everyone knows that leaders have to motivate their people. So they do whatever they can to make it happen. Some yell and threaten. Some are cheerleaders. Some try to be best friends. Some use incentives and rewards. All in the hopes that their people...
read more