From the individual perspective of change, everyone naturally wants to be safe and stable—in relationships, processes and habits. But sometimes, what appears to be safe really isn't. Because life changes daily, you are faced with assessing the veracity of what you used to do to be successful. The false sense that "it worked yesterday and today, so it will be good tomorrow" is risky indeed.
This got me thinking about how risk affects you and your professional practices. How you perceive risk could inhibit your career success. Some practices are really risky, even though they appear to be safe.
For instance, it appears safe to keep your options open, so you refuse to narrowly define yourself technically or by the market you serve so as not to miss opportunities. You prefer to maintain a broad reach in your technical competence. This is risky because you cannot be excellent in all areas of your discipline—even prospects know it. The complexity is overwhelming and you show yourself as a dabbler instead of an expert. Being lost among the thousands of "me too" generalists is very risky.
Or, it appears to be safe by staying close to the "tried and true," whether it be a methodology, a software or a relationship. Keeping things the same gives a false sense that all is well. Just as it has been. This would be true if nothing ever changed. But everything always does. Technology changes methods, expectations relationships. Doing what you did last year will be insufficient going forward and puts you at significant risk.
Or, it appears to be safe to keep your client relationships close and in your control, so you prevent others on your team to interact with your clients and insist that you be the client contact. This is risky because you appear to be a one-man band and all your clients want the security of knowing that others can help them in the event that you are unavailable.
Your career cannot afford to be stuck in status quo. Step out and accept that what appears safe may be really risky. What should you change?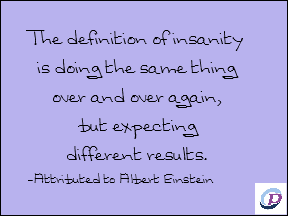 The Struggle Why can't life be easier? Why won't people just do what they are supposed to do? Why don't things go the way they were planned? Why does everything have to be a struggle? We all say these things when we are frustrated and, well,,,struggling. What Struggle...
read more