In a recent coaching call with a manager, I was reminded of how easy it is to conform your thinking to your environment. For her, she described her specialty practice and that her clients are in a regional reach. Her enthusiasm was infectious and I was drawn to her storyline. But as we talked, my sense was that her market reach was constraining her opportunities. So I posited the idea that she expand her thinking from a regional to a national scope. Why not?
That's when she described how she had already touched the national market by developing a few relationships with national contacts, writing some articles for national mags, and making a presentation or two. Our discussion went from her plans about furthering her regional share to a national effort. Her opportunities are on a national stage and I expect she will be wildly successful.
And that's the difference between splashing where you are and swimming toward the deep end.
A lesson to you: regardless of where you are in your career, you should always know where the deep end is and be actively swimming toward it. When you lose sight of the deep end, you stay where you are, splashing away, giving the appearance of accomplishing more than you are.
What is the deep end for you? Have you written it down? Do you look at it EVERY DAY to avoid being drawn to splashing where you are? Have you identified the progress points you need to get to and when? Have you involved anyone in your plan to support you, be a resource to you and to whom you make yourself accountable? If you won't do these things, are you effectively saying you're content to splash where you are?
Having read this message, you have some thoughts about your deep end. Write them down so you don't lose them. And start swimming!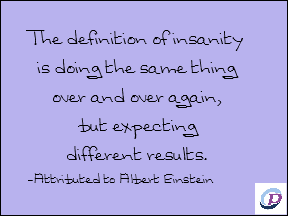 The Struggle Why can't life be easier? Why won't people just do what they are supposed to do? Why don't things go the way they were planned? Why does everything have to be a struggle? We all say these things when we are frustrated and, well,,,struggling. What Struggle...
read more