Don't you just hate to polish silver? That was one of my family jobs growing up. I found that if I didn't keep it up, it would be really difficult to shine the next time. Not unlike your professionalism. It's so easy to let it go, not pay attention, just go along, and then BOOM. You're a mess—very unrepresentative of your professional stature.
Here are three ways your professionalism can tarnish.
You become increasingly resistant to change. Whether it be a new process, new software or a new way to do something, you not only prefer the old way, you actively resist letting go. That is so unbecoming of you.
You become dismissive and minimizing of others. As you gain knowledge and experience, you become less tolerant of others who haven't mastered what you have. Sometimes you want to jump up and yell, "YOU MORON! How did you ever get hired in the first place?!!" I get it, but it's not demonstrative of your professional stature.
You take less and less responsibility for things. While several people may have been involved in something that went awry, so did you. Rather than go on a witch hunt for the culprits, first look in the mirror and own up to your part. You will often find that you could have been better.
So, if your name was placed by the office coffee pot and people were to check each of the areas that pertain to you, how many check marks would you receive? How many stories would there be as evidence that you deserve the check mark?
This week, be attentive to your professional shine. Don't be so distracted and negligent that you allow it to tarnish. Take my word; it's really difficult to polish it.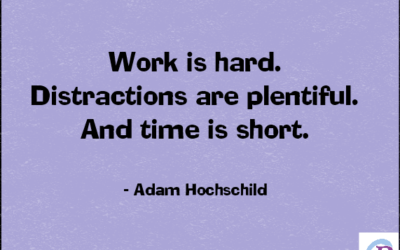 Interruptions Won't Go Away How many times have you said or thought, "I can't get my work done because of all the interruptions!"? They are a curse to your concentration and productivity. In Last week's Message, I mentioned some ideas about how to manage those pesky...
read more