All professionals struggle with the same constraint: time.
It seems that there is just too much to do and not enough time to do it. If you
listen to time management gurus, they try to convince you that if you do all
the right things the right way, you will be able to do it all. However, as far
as professionals are concerned, nothing could be farther from the truth.
There really IS too much to do. Everything competes for your
limited time and energy. I refuse to perpetuate the fabrication that you can
get it ALL done. You only need to spend a few minutes comparing your to-do list
with what is already on your calendar and match them all to their respective
deadlines. It doesn't work.
If you're serious about your professionalism, you'll deal
with your time issue in the following ways.
1. Commit to regular planning time. When you sacrifice your planning time to do more
tasks, you're essentially cutting into the bone of your professionalism. It
only takes a matter of weeks before you're a total mess. Don't be seduced to
trade time to plan to complete a task or two.
2. Prioritize what is most important and put those on your calendar first. As I've
written so many times, if you have something on your do list that isn't on your
calendar, you're essentially have to shoehorn that item into your already busy
schedule. It never fits and will simply be delayed yet another week.
3. Manage your deadlines. If you have something that is due and you know you can't do
it, renegotiate it. Even if the other party will be displeased, at least you've
maintained your credibility. Then quit accepting others' deadlines if you can't
meet them. (Note: this isn't an excuse to work less. Be realistic and make an
effort to meet their expectations.)
So, if you haven't planned your week yet, you aren't
ready for it. After you read this message, plan, prioritize and manage yourself
and have a great week taking your professionalism seriously.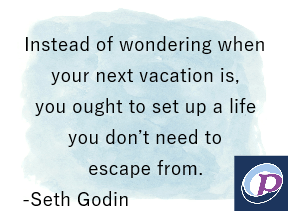 Are you are concluding an exceptionally busy time? Or are you still in the midst of it? Or worse, is there no end in sight? Regardless of your situation,you must refresh and renew. If you don't interrupt yourself and your work, your days and career will turn into a...
read more