In a coaching call last week, I spoke with a manager who wanted to know the difference between a manager and a senior manager. When she inquired about what that meant, her firm leader was unable to give her as clear a description as she was hoping for. The reason wasn't because the partner didn't know the difference or was holding back. It was because it's not that specific and definable. So here is what we discussed.
Up to the position of manager, it more about progressive promotion. From your first day as a newbie to the manager promotion, it has to do with gaining knowledge and experience in technical competence, demonstrating the ability to work with clients, even the difficult ones, and generally fitting into the firm's culture. Yes, there are other factors, but most firms use these as primary indicators that you are ready for a promotion.
Once you become a manager, the next promotion isn't really related to the progressive nature you experienced previously. There is more emphasis on other things that are more abstract and less tangible.
For instance, your confidence in your work and in handling difficult situations with clients and staff is enormous. It's no longer about knowing the answer as much as demonstrating confidence in yourself and your ability to solve the problem. How you exude personal confidence gives others confidence in you.
Another factor is using sound judgment to make good decisions. This is really hard because judgment and decision making are more than knowledge and experience. There's a certain intuitive element required that can't be taught. If you constantly look for the "right answer" in the law or code, you aren't demonstrating the ability to examine situations in a broader context. Some managers aren't willing to step into the unknown because they don't know where it will lead.
A third area that senior leaders look for is the willingness of managers to fully own the situation. Up to this point, managing the engagement has been sufficient: getting it right, on time and on budget. But the next level requires more than a string of successful projects. It's being engaged with your client and how your work interfaces with the client's world, including their goals, aspirations and issues. This takes you well beyond what you have direct control over, which is beyond just your part, your project.
When managers perform at this level and do so consistently over time, then they are worthy to be considered for promotion to the next level. This is why it's so difficult to describe what a senior manager is and why there aren't more. Are you interested? Then be that person.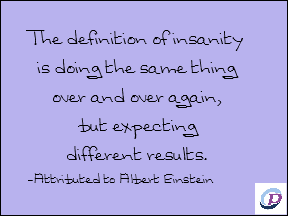 The Struggle Why can't life be easier? Why won't people just do what they are supposed to do? Why don't things go the way they were planned? Why does everything have to be a struggle? We all say these things when we are frustrated and, well,,,struggling. What Struggle...
read more