One of the great joys of my work is coaching current and next gen leaders. Everyone develops their own style and perspective that influences their leader effectiveness. Even though everyone is unique, they all must expand their ability to maintain a broad view while engaged in the narrow view.
This is commonly referred to as working on the business while working in the business. This dual perspective is necessary for much of what you do, especially with client work. When you demonstrate versatility in this way, you prove that you have an important competency in the leader mindset.
How easy it is to become so preoccupied with the task or the project at hand and forget about how it connects to what is important to your client—their goals and aspirations. You get into the whirlwind of things and just pound out what is right in front of you. You are so much more valuable than that.
But don't expect your client to connect the dots between your engagement and their ultimate goals. Too often, they also fall into the narrow thinking about the project's schedule, timeline, quality and deadline that they miss how significant the engagement is to what is most important to them.
This dual mindset is something you should talk about with your team. They can easily led to believe that the most important thing is the specific assignment itself, with little regard to the big picture. If you don't take a few minutes to explain what their work really means and how it contributes, they will miss it entirely.
This week, check yourself. When you are working on your client work, ask yourself if you know your client's goals and how your project is a part of accomplishing their dream. When you know the engagement's expectations and your client's aspirations, you're developing an important element of leadership.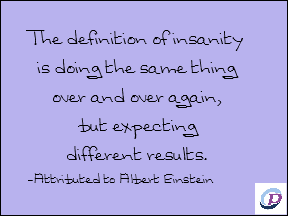 The Struggle Why can't life be easier? Why won't people just do what they are supposed to do? Why don't things go the way they were planned? Why does everything have to be a struggle? We all say these things when we are frustrated and, well,,,struggling. What Struggle...
read more