While attending a Clinical Counselors Conference a couple of weeks ago, I heard a speaker emphasize that saying no is an effective strategy to prevent overload and burnout. There's no question that volume of activity under pressure (like deadlines) is a culprit. And I agree…to a point.
Upon further thought, it's more than just the volume of work that causes stress. I know some extremely busy people who love what they do—in spite of how much they have before them. Their strategy isn't saying no, but saying yes to the right things and then dedicate themselves to those yeses.
So why do you say yes too much in the first place? Some think they don't have a choice, but we always have a choice. Others talk about opportunities that may prove to be exciting and don't want to miss out (FOMO?)
But many opportunities exist right where you are, in the work that you do now. Your clients and colleagues rely heavily on you to do and be your best. Don't be lulled into believing and working as if completing tasks is run of the mill. Those accomplishments matter and if you don't connect what you do to something that matters, you will only have a job of tasks instead of a career of fulfillment. As I've said dozens of times, professional service is too difficult if it's just a job. So the goal isn't to say no, but to reserve your time and energy for when you should say yes.
As you read this, please understand that you will NEVER get this day back. Whatever you do in it, you've spent it—forever. Make sure your work makes contributions to yourself and others—your career and your clients. When you go to bed, you should feel spent but fulfilled, knowing you invested yourself in important things.
Commit yourself to connecting everything you do today and each day to something that matters and you'll never work a day in your life.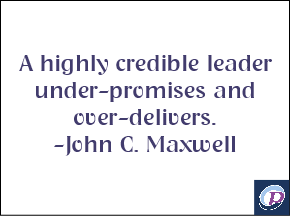 The beginning of the new year is a perfect time to determine how you will improve this year. Rather than focusing on a lot of things, how about focusing on just one thing? It will be something that should always be on your mind: how to strengthen your credibility....
read more