You're working intensely on a complex problem, deep in concentration. You're making progress and are so engrossed in your work that you don't notice someone walking by and asks you, "Do you have a minute?" What do you say?
Research over the last decade has shown that it takes about 25 minutes to re-engage your thinking and concentration at the level you were prior to the interruption. When I first saw that, I couldn't believe it. Sounds like a long time to me. But replicated studies have demonstrated the same results. The point is that anything you can do to minimize interruptions will be to your advantage.
And you can be your own worst enemy when it comes to interruptions. At what point do you halt what you're doing to check your email, Facebook, weather report or research your upcoming vacation? If you're like most, it happens as it occurs to you, not at a planned time: you're waiting for someone to get right back to you, or you're on hold, or you just completed something. The problem is that those moments turn into more than just moments and divert your attention so far away from what you were working on that it will take every bit of 25 minutes to get back on track!
There are various ways of minimizing interruptions; some are more appropriate for you. You could confirm with someone that if it will take more than a minute, it would be better to schedule something. You could take the initiative and schedule times for people to check in with you—at your convenience. You could let people know you would like to be undisturbed unless something just can't wait. You could get away to another space to work.
Your environment isn't going to make it easier for you. Either you manage your environment or your environment will manage you—to your demise. Just remember that only you can manage your interruptions. Prepare yourself now how you will respond to the next interruption. After all, it will probably be within the next hour.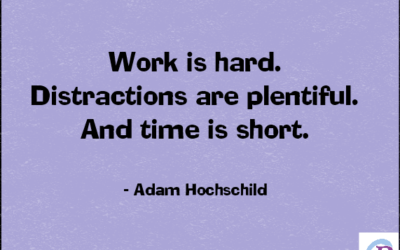 Interruptions Won't Go Away How many times have you said or thought, "I can't get my work done because of all the interruptions!"? They are a curse to your concentration and productivity. In Last week's Message, I mentioned some ideas about how to manage those pesky...
read more