It's time for my busy season to ramp up, going from the beautiful southeast coast last week to the equally beautiful southwest coast this week. Tough job, I know.
Of all things, I'm most interested in hearing the progress that people have made on their Action Plans from my last visit. I want to hear the results they got by applying what they learned. It's also a time to confirm whether people actually learned something or they just heard it. There's a difference.
A while ago when I was an instructor for a national training and coaching firm, I used to hear from some of the participants that they had seen or heard something we were presenting. Of course, my immediate follow up question was whether they wove it into their practice and produced results. And of course, I got very little back. It is so tempting to believe that, because you saw something, you know it.
There's actually a name for this phenomenon where you have a higher confidence of understanding something than you actually do. The authors of the Dunning-Kruger Effect found in their experiments that everyone, including you, believe you learned something when you really only heard it. To complicate matters, the odds are stacked against you because when you get back to your normal routines and schedule, your new learning requires intention, concentration and effort to implement. It's just easier to say you know it and leave it at that.
Here's a test. Go back to the previous three Monday messages and select one thought, behavior or practice in each that struck you and see if you have instituted it into your work and relationships. It's likely you haven't, but at least you can say you've heard of it before. Dunning-Kruger 1; You 0.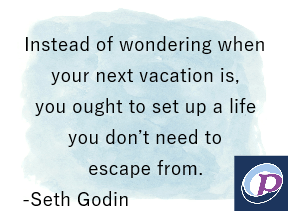 Are you are concluding an exceptionally busy time? Or are you still in the midst of it? Or worse, is there no end in sight? Regardless of your situation,you must refresh and renew. If you don't interrupt yourself and your work, your days and career will turn into a...
read more