From last week's message on receiving feedback, a number of highly respected partners posed some interesting questions and dilemmas they have faced, like how to handle feedback that's not objective, anonymous comments or feedback they just don't agree with. These are great questions that illustrate both the value and hazard of soliciting feedback. So here's a follow up to last week's message.
First, realize that not all "feedback" is feedback. Sometimes it's actually advice (you should or you shouldn't). Other times it's really someone's opinion (I think you made a mistake/your way is ineffective.) Periodically it's really a disagreement (I don't like the way you…). While technically these are forms of feedback, they aren't intended to be developmental. It's more noise than anything else.
When receiving feedback, keep in mind these principles.
Assume best intent. Sincerely appreciate what you get. Even if there was a negative ulterior motive, accept it graciously. You want to be known as someone who welcomes and appreciates feedback so you don't inhibit those who want your best.
Look for the gold. What did they see, hear or experience that led them to say what they said? Get over how they said it or evaluate how much they really knew of the situation. Ask yourself, where is the tiny nugget of truth that you need to hear and could use?
Test feedback. Consult with people who will tell you the truth, but realize that these supporters are hard to find because your friends and advocates don't want to pile on. So they bail you out with false assurances that you really aren't that way or you didn't deserve that feedback.
Take it beyond the moment or circumstance. Rather than analyze how accurate it is in a specific situation, consider it from a more comprehensive view, over time and situation.
In the end feedback should make you better and more effective. Regardless of their motives, use all of it for your purposes, not theirs.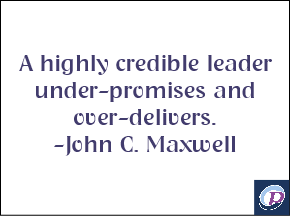 The beginning of the new year is a perfect time to determine how you will improve this year. Rather than focusing on a lot of things, how about focusing on just one thing? It will be something that should always be on your mind: how to strengthen your credibility....
read more