Professionals have a natural proclivity to well. You desire to show yourself worthy of professional stature by the quality of work you produce. You enjoy applying your knowledge and skill to create something you can be proud of and others will appreciate.
All of that is good and it keeps you going. However, being in the domain of excellence, you are only a step or two away from entering the realm of perfectionism. YIKES!!
Yes, there's a dark side of perfectionism. As much as it can work for you to keep standards high, it can also work against you. Your obsession for being perfect is a problem…
… When being perfect cannot be attained within time, budget or quality parameters of the engagement.
… When being perfect prevents you from delegating for fear that it won't be done right
… When being perfect raises the bar beyond what is possible, let alone necessary.
… When being perfect becomes the end, not the means.
… When being perfect distracts you to concentrate on the minutiae, at the expense of what is important.
… When being perfect makes you believe the "right way" and "your way" are the same.
… When being perfect generates a fear of trying a different approach.
… When being perfect is experienced by others as nitpicky. (Of course, you don't agree.)
… When being perfect drives you to be excessively critical of yourself and of others when perfection isn't met.
How many of these statements sound familiar to you? How many actually describe you? Just imagine what you look like to others. It may be time to reign yourself back to the domain of excellence, because excellence isn't perfectionism.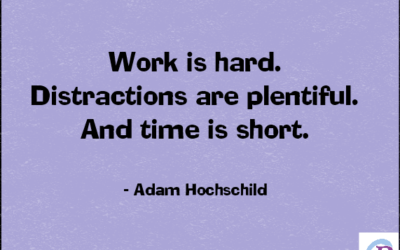 Interruptions Won't Go Away How many times have you said or thought, "I can't get my work done because of all the interruptions!"? They are a curse to your concentration and productivity. In Last week's Message, I mentioned some ideas about how to manage those pesky...
read more