There is more evidence than ever that in the next 5-7 years, much of the work you're doing now will be done by machines. With the ramp up of data analytics, artificial intelligence and the expanded capabilities of technology, you won't be needed to do what technology can do better, faster and cheaper.
So rather than compete with artificial intelligence, you are better off sharpening your human intelligence. That's your differentiator—something technology can't do. Things like complex problem solving, or innovative thinking, or effective human interactions.
One of the key human skills is demonstrating a client service orientation. A service orientation is when you have the ability to vicariously know what your clients experience from your actions and then adjusting them to improve the client experience.
But sometimes you appear to be oblivious to the effects of your behavior and actions. For instance, take any time you delay a response to a client inquiry. You have to understand that your client isn't just sitting around connecting paper clips, and then decide, for no particular reason, to contact you just to chat. They have something on their mind and thought of you as someone who could help them. So your delayed response is not received well and is experienced as you are either too busy or don't care. Neither of those messages are good, but it doesn't matter. That's the message you sent them. At least artificial intelligence will put them on hold and take their call "in the order in which it was received."
If your service orientation isn't any better than a computer, you will lose the job. Every time. The expectation is that you will be better at serving clients. Are you? What practices do you use that make your clients wish for a robot instead of you? Change those. NOW.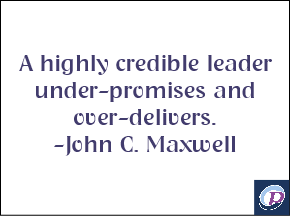 The beginning of the new year is a perfect time to determine how you will improve this year. Rather than focusing on a lot of things, how about focusing on just one thing? It will be something that should always be on your mind: how to strengthen your credibility....
read more