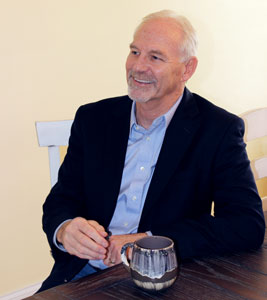 Guy Gage III, LPC
Guy Gage III, LPC, has combined over two decades of experience developing leaders within accounting firms. Using his unique  background in human motivation and performance, he provides instruction, coaching and consulting to accountants and accounting firms.
Credentials
 Earned a Master's degree in Counseling
 Holds a license as a Professional Counselor (LPC)
 Serves as a Supervisor for Licensed Counselors (ALPS)
Experience
 Established a counseling practice, focusing on executives and their families
 Conducted corporate training, coaching and strategic planning for professional firms in law, accounting, engineering, architecture, financial services and insurance.
 Served for a decade as a senior instructor for The Rainmaker Academy, an international  leadership and business development program for accountants
 Employed by Toothman Rice, PLLC, an accounting firm to develop and manage the HR and business development areas
Biography
Guy Gage is the owner of the PartnersCoach®, a coaching and consulting firm to professionals in private practice. Holding a license in counseling and an emphasis on human performance improvement, he has consulted with and coached CPAs for almost 20 years, guiding them to increase their effectiveness and career satisfaction.
Guy began his career as a therapist working with executives and their families. Soon his career expanded to include soft-skills training to schools, businesses and not-for-profit enterprises. Because of his effectiveness and his personal interest in developing professionals, he transitioned from his counseling practice to concentrate on training and consulting to professional service firms.
In 1999, Guy expanded his private practice further and joined Troy Waugh and The Rainmaker Academy, an international leadership and marketing training firm for accountants. For 10 years he served as a Senior Instructor with the Academy, training and coaching hundreds of accountants in the USA and Europe to generate millions of dollars in revenue for their firms.
In 2001, following a successful consulting practice, Guy joined Toothman Rice, PLLC, a 4 office accounting firm in north-central West Virginia. Over the course of almost 8 years, he held responsibilities in HR, marketing and firm development as the firm doubled in revenue and profitability.
While enjoying his time at Toothman Rice and The Rainmaker Academy, he wanted to focus more on what he does best: coaching professionals to discover their leadership and success potential. In July 2009, Guy launched PartnersCoach®, working with CPAs and firms in the accounting profession. When asked about how he likes his new venture, he says, "It fits perfectly. It's what I do; it's who I am."
Guy is a graduate of West Virginia Wesleyan College and Marshall University Graduate College. His affiliations include the CPA Firm Management Association,  American Mental Health Counselors Association and the West Virginia Licensed Professional Counselors Association. He may be reached at 304.677.0296 or guy@partnerscoach.com

"I was recently awarded with the opportunity to present at an executive board committee meeting for my firm [for partnership]. I received such positive feedback after my presentation, but the credit mostly goes to Guy who helped me every step of the way.  We worked together on a weekly basis to help meet this milestone. His insight, professionalism, and ability to mentor are remarkable. I always felt comfortable working with him and he allowed me to achieve my maximum capabilities.  I can't thank Guy enough for being there when I needed him most in my professional career."

– Stephen Farbish, CPA
"We have been using Guy's services for over 2 ½ years. These programs are the Partner-Pipeline program for all our People, and the Partner-Ready program for our Senior Managers.  Guy also facilitates our annual Partner/Manager retreat, as well as our Partner-only retreat. These programs are important to the overall success of our firm, as we are evolving into a larger firm and adapting to an ever changing environment.  Guy is a mentor to the partner group and his skills have been a big part of our success to date, and will be on a go-forward basis for years to come."
–  Joshua J. Bodenstadt, CPA
"Guy provides a unique insight on the firm's structure and management. We tremendously value his experience and knowledge of CPA industry. He has almost instantly earned trust from our partners and staff. We rely heavily on Guy to lead us into the future as we strive to be a firm of choice for our clients and staff."
– Mark Kruspodin, CPA/PFS, Duffy Kruspodin, LLP
"Guy's approach was unique in that he was very hands on, easy going, and easy to get in touch with. He is a great person, excellent professional, and really does a great job with what he does,"
– Craig Springer, CPA
"There are many people in the service industry, but what separates Guy is his experiences working within a CPA firm. I've recommended Guy to many other firms. Firms that emphasize the skills Guy teaches, differentiate themselves. That's the bottom line and an important issue. Guy not only comes with a program but has lived it, practiced it, and can speak from experience. He will make individuals and firms stretch to make them better individually and collectively,"

– Mark Topel, CPA, CFP
"Guy understands the opportunities and problems in an organization and is able to be involved in the decision making and problem solving steps. It is a tremendous asset for Guy to have the experience of working inside a firm. I would definitely recommend Guy to others. He has a really good understanding of what makes people tick. His educational background in counseling prior to coaching is a strong asset that mixes well with his firm experiences,"
– Tom Aman, CPA